Hand Feeding Your Fish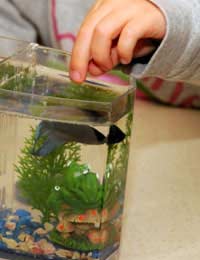 It's one thing to put food in your aquarium, close the lid and watch your fish eat - it's quite another to feed them by hand, knowing that they trust you and see you as their provider. Hand feeding your fish is a great way to get more out of your time with them and get to know them as individuals. It can also be an important technique in nursing sick fish back to health.
Of course, not every kind of fish can be hand fed safely, and it goes without saying that you should be careful if you have a fish with sharp teeth or dangerous venom, but even then it is sometimes possible to feed your fish using salad tongs, and since fish of this sort tend to be solitary, not interacting much with tankmates, they often respond well to the extra attention from humans.
Building up Trust
Of course, it's impossible to feed fish by hand if they won't come near you. Fish with no experience of being hand fed are instinctively wary, and new fish may hide away whenever you're near their tank. It's important to be patient and get them used to you one stage at a time.
Fish are startled by sudden movement, so make sure your movements near the aquarium are slow and deliberate. It helps if you follow the same patterns of behaviour every time so that they can get used to you. If you're putting your hands directly into the water, remember that fish have lateral lines which are very sensitive to vibration. Move slowly and gently, following currents where possible.
Rather than trying to push food items at your fish, it's better to let them come to you. You may have to try this several times before one of them is brave enough. Once more nervous fish see that others are getting away with it, they'll be more likely to come forward too.
Of course, it's not just fish who have to be trusting in this situation, but humans too. Fish may butt you with their snouts to determine what you are, or may run barbels across you. This is usually just investigative behaviour, not aggression.
Types of Food
Feeding fish small items like flakes or pellets by hand can be difficult. Start with larger snacks like pieces of blanched lettuce, skinned peas or cucumber. Be wary of feeding meat by hand, as fish may get confused by the fact that your fingers are made of a similar substance. Even if they don't hurt you when they bite you, they may panic when they realise what they've done.
Feeding larger pieces of food has the advantage that several fish may be able to eat from them at once. This makes the fish feel braver and it also makes it easier for you to ensure that smaller, weaker fish get their share.
Hand-Feeding Sick Fish
The best thing you can do to ensure your fishes' health is to observe them closely on a frequent basis. Hand feeding makes it easy to do this, and getting to know your fish as individuals makes it easier for you to tell when they start behaving abnormally. Once you've built up a trusting relationship, it's also a trick you can use to coax unhappy fish out of hiding places and get a proper look at them.
A fish who is really ill may find it impossible to eat from the surface or catch falling pellets. Often fish die of secondary causes even when the infections they've suffered are successfully treated, because they're weak and exhausted. Careful hand feeding can reduce the risk of this. When a sick fish trusts you, you will be able to put food directly into its mouth, enabling it to build up its strength until it's strong enough to return to normal.
Even if you only have the time to do it occasionally, hand feeding can give a real boost to the aquarium experience for both you and your fish.
You might also like...