Freeze and Dried Food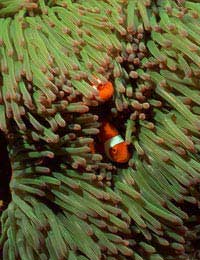 Providing suitable nutrition is an important part of keeping a successful aquarium and feeding time is also something which should be fun for you and your fish. But live food is tricky to organise and runs the risk of introducing disease organisms. Can you really give your fish the healthy diet they need using just frozen and dried foods?
The answer is that it depends on the needs of the particular species of fish you've chosen to keep. Some fish must be provided with live food, whilst still others need to be able to find suitable grazing within the aquarium ecosystem itself. Most, however, can do well on a diet of frozen or dried food if they can be persuaded to accept it. Such foods are convenient because they are easy to store and have a long shelf-life. This is particularly useful if you live a long way from your nearest fish shop.
Making Food Appealing
Many carnivores have strong instincts which keep them from eating anything that doesn't move. In the wild, this keeps them from eating dead things, which are more likely to harbour disease organisms. Once they've learned that frozen or dried food is tasty, they can usually overcome these instincts, but to overcome their initial hesitation you're going to have to make the food look as if it's alive.
The usual way of presenting food like this is to attack it to the end of a chopstick or a piece of plastic tubing and lower it into the aquarium in front of the fish, then wiggle it around as if it were swimming. You may need to do this a few times before your fish get the hang of it. Be patient and don't worry about looking foolish - getting your fish to eat is the most important thing.
Many fish won't approach food which looks too big for them, so always be ready to break it up into appropriately sized pieces before feeding. This applies not only to frozen food, but also to dried foods which often come in cubes. These are best managed by dissolving them in a glass of water before adding them to the aquarium.
Sharing Your Food
With some species of fish, things are even more convenient, because you can feed them with the same products you might choose to eat yourself. Carnivorous marine fish often enjoy prawns, clams, cockles, mussels and shrimp, and these foods are highly nutritious. Make sure they are thoroughly thawed out before feeding and cut them into pieces of an appropriate size for your fishes' mouths. Never use seafood which has been pickled or preserved in brine, as this may contain chemicals toxic to your fish.
Commercial Products
There are several different frozen and dried foods available for your aquarium. If you can't get hold of them at your local fish shop, try ordering them over the internet. Among the most popular are the following:
Brine shrimp -High in protein and in healthy fatty acids, brine shrimp make a great treat for most species of fish, though they're too rich to recommend for everyday eating.
Daphnia -This makes a great basic diet for almost all fish, as well as for corals and anemones. Enriched varieties are available with more of the vitamins and minerals your fish need. If you use a plain variety, make sure to provide other foods from time to time as well.
Bloodworm -A favourite with many species of fish, bloodworm are high in protein and vitamins. They're best fed as a treat rather than as an everyday food.
Krill -Low in salt and fat, krill makes a good dietary mainstay for most carnivorous and omnivorous fish.
Tubifex - High in protein,tubifex encourages growth and makes a great treat for freshwater fish. It can be used as a conditioning food to get your fish in good shape prior to breeding.
Plankton -Freeze dried plankton is the safest kind to feed to your fish, and it remains rich in vitamins and minerals. It's an important supplement in marine diets.
The real key to good fish nutrition is variety, so make sure that you give your fish a range of different suitable foods. This will make sure they get the different vitamins and minerals they need to stay healthy, and they'll also find it more enjoyable.
Frozen and dried food makes it easy to keep a range of foods in your home so that you can provide a really good diet and bring out the best in your aquarium.
You might also like...