Cardinal Fish for Your Aquarium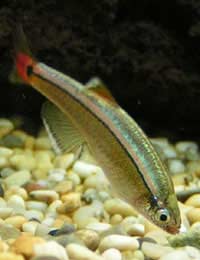 Among the easiest marine fish to care for in the aquarium, friendly, sociable and easy to breed, cardinal fish are among the best possible choices for new aquarists. They also make a great addition to established community tanks provided that their tankmates are peaceful and of a similar size. With their huge eyes and their brilliant colours, they're really something special.
Although most species are primarily nocturnal, preferring to eat at sunset and dawn, cardinal fish can often be encouraged to come out early by a slight change in the light, so you can enjoy watching them in the evenings.
Caring for Cardinal Fish
Cardinal fish are often shy so do best in tanks that offer them plenty of places to hide. Although they will use caves and hollows in pieces of wood, their preferred environment is amongst live corals or plants such as sea grass.
As slow swimmers, cardinal fish can struggle in tanks where there are strong currents or where they have to compete for food with large numbers of faster fish.
Feeding Cardinal Fish
All species of cardinal fish are primarily carnivores and they will do best if supplied with live food, but they will also take freeze dried shrimp, daphnia and bloodworm, or small pieces of cooked pork and beef. However it's a good idea to include some vegetable matter in their diet to facilitate healthy digestion.
Small crustaceans are a particularly popular choice for hungry cardinal fish and they are happy to graze on live rock in reef tanks.
Breeding Cardinal Fish
Cardinal fish are easy to breed. Unfortunately it's hard to tell the males and females apart, so when you're ready to buy them, spend some time watching them first. Females are slightly more rounded in shape and the males of most species are more aggressive (though they'll be peaceful in their dealings with other species). Both sexes are fussy about their mates, so look out for pairs already close to each other, or allow time for pairs to form naturally in your aquarium.
Once you have a pair ready to breed, move them to a quarantine tank or provide good hiding places for your other cardinal fish, as they will become very territorial. After the eggs have been fertilised, the male will hatch them and guard the fry in his mouth, going without food for up to three weeks. Upon release, the fry should be big enough to fend for themselves, and ready to eat adult food.
Types of Cardinal Fish
There are many exotic species of cardinal fish suitable for keeping in the home aquarium. Some of the most popular are as follows:-
Kaudern's cardinal - The most strikingly beautiful of all cardinal fish, these exotic creatures have narrow black stripes across silver bodies and elongated fins peppered with spots. They grow up to three inches in length and it's best to keep just one male with two or three females to keep them from fighting each other.
Spotted cardinal - With yellow faces, orange eyes and orange polka dots on the rear halves of their bodies, these dramatic little fish make quite an impression. They grow to about three and a half inches and do best when kept in shoals of four to eight.
Flame cardinal - These vivid red fish are nocturnal in nature, though when they get used to you they'll emerge as soon as the tank lights go out. They grow up to four inches in length and are best kept in mated pairs.
Black striped cardinal - With striking horizontal black and white stripes, these handsome fish grow up to five inches long. They do best in mated pairs and are often shy around larger fish, but will become more sociable as they build up confidence.
Longspine cardinal - Among the smallest cardinal fish suitable for aquariums, these peaceful little fish do well in shoals of around six. They're largely transparent but have beautiful iridescent green, blue and yellow markings.
Orange lined cardinal - Striped orange and white with distinctive black spots on their tails, these friendly fish thrive in small shoals and grow to about two and a half inches in length.
All species of cardinal fish represent an attractive and lively addition to your tank. They're a great choice when you're looking for appealing fish to round out your community.
You might also like...