Adding Knifefish To Your Tropical Fish Tank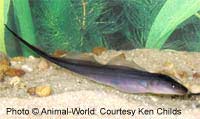 Adding Knifefish To Your Tropical Fish Tank
If you're looking for something really exotic for your tropical aquarium, and you like the idea of keeping fish with personality, knifefish may be for you. These stiff-bodied fish with long, slender bodies and elongated anal fins which ripple beneath them really do have a knife-like appearance.
They're fairly intelligent and, although most will eventually need to be kept on their own, they can be sociable when young and they take an interest in what's going on outside the tank. But knifefish can be difficult to keep and larger species are generally recommended only for those with aquaria over one hundred gallons in capacity, so they require quite a commitment. Are you ready for the challenge?
Knifefish Habitat
Different species of knifefish are found all around the world, though most species come from South America, but they are all river fish and prefer neutral pH water. They tend to be sensitive to ammonia and to copper, so be careful what medicines you use in their aquarium.
Most knifefish are shy by nature and will need a tank with plenty of hiding places. However, since they find their way around by a sort of sonar rather than by sight, using a specialised electrical organ (not strong enough to give you a shock), you can create 'hiding places' using clear plastic which will make them perfectly happy and enable you to enjoy watching them even when they're at rest.
Knifefish are carnivorous and have a habit of eating smaller tankmates, so be careful what fish you keep them with. If they don't want to eat their tankmates, they're generally non-aggressive and some species can be quite friendly, with individuals forming strong attachments to other fish. Just watch out, because they can grow very fast!
Feeding Knifefish
As carnivores, knifefish need a steady diet of meat-based foods, though many also enjoy a bit of plant matter, especially algae, which can help to clean their digestive tracts.
Contrary to popular belief, it isn't necessary to give them live food (which will boost their growth rate), though if they get use to it they may refuse alternatives. They can usually be trained to eat pellets; freeze dried minnows, bloodworm, or fresh water shrimp; pieces of cooked beef heart or chicken; or even dog food. They prefer to eat at night just after lights out. Just make sure you clean away any leftovers in the morning.
Types of Knifefish
There are several different types of knifefish which are popular with tropical fish enthusiasts.
Clown Knifefish - With their pale, shiny bodies and spot patterns which vary between individuals, these attractive fish are an aquarium favourite. However, they can grow very big - over thirty inches long - and can live for over fifteen years, so they require a major commitment.
Black Ghost Knifefish - These shy but affectionate fish are black all over except for an attractive banded tail. They can grow up to twenty inches long, so make sure you have room for them, and give them plenty of cover. Buy small specimens to avoid getting those taken from the wild.
Elegant Knifefish - A very shy but beautiful looking banded fish which grows to about a foot in length. Make sure it has places to hide.
African Knifefish - Also known as the brown knifefish, this grows to about a foot in length and is quite sociable, making it a good community tankmate if kept with fish too big to eat. It's hardy and fairly easy to look after.
Centipede Knifefish - This banded fish has stripes which run down across its clear anal fin, creating the appearance of lots of tiny legs. Among the smallest available knifefish, it is peaceful and will often learn to socialise well in a community tank. It's a good choice for beginners.
Glass Knifefish - With their semi-transparent bodies, these medium sized fish are fascinating to watch. They prefer to be kept with others of their own kind and they are generally peaceful.
Knifefish can require a lot of hard work, but they are always interesting. Getting to know these unusual fish can be very rewarding and many people rate them among the best fish they've ever kept.
You might also like...