Aquarium Medicine Cabinet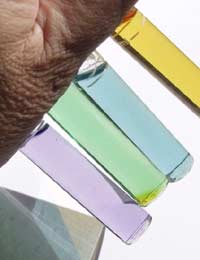 It's all very well to purchase medicine for your tropical fish when they get ill, but if it's an evening or a bank holiday or if you have problems with transport, by the time you get what you need it can be too late. Many fish diseases, especially in warm aquariums and in small fish, can reach a dangerous stage very quickly. Keeping a properly stocked medicine cabinet at home can make all the difference.
Medicine Cabinet Essentials
What are the key drugs you need to have in any aquarium medicine cabinet? Whilst some things will vary depending on your set-up, there are certain basics you'll always need:-
Anti-internal bacteria medication - Infections of this sort can be difficult to spot so often need to be treated on an urgent basis. Interpret Anti-Internal Bacteria is very good if used properly but incorporates copper, making it unsafe for some fish and invertebrates. Myxazin is a better option in most of these cases. Unfortunately actual antibiotics are available in the UK on a prescription basis only.
Anti-fungus, fin rot and pop eye medication - API Fungus Care and eSha 2000 are both great all-round treatments but cannot be used where copper is a problem. In that case, Melafix is usually the best option.
Anti-parasite medication - There are many different parasites that affect fish, two of the most common being white spot and velvet. Many parasites live in the water all the time and are very hard to eradicate, but only become a problem if fish are weak and cannot fight them off naturally. Paragard is a good all-round treatment, but includes malachite green, so if you have sensitive fish, invertebrates or coral, try Ruby Reef Rally or Octozin instead.
Wound care - There are an increasing number of ways to treat wounds on fish. Bio Bandage is a great gel bandage which you can apply directly to damaged areas and that will stay in place for up to a day whilst your fish swims around. Other treatments, like Liquisil General Tonic, help by encouraging the development of your fishes' natural protective slime coats. Melafix combines this effect with a boost to the natural healing response.
It's important to remember that not every type of medicine is safe for every fish. Read our section on fish disease for more information, and always read the information leaflet that comes with your fish medication before you use it.
Multi-Action Medicines
It's possible to obtain some types of aquarium medication that do more than one thing. This can simplify treatment, enabling you to take action before you have a firm diagnosis, but it isn't always the best solution.
The chances are that you've taken medication for an illness which has had the side effect of making you feel drowsy or unwell. Fish can be similarly affected, and medication can sometimes make them more vulnerable to illness in the long term. The best policy is always to use as specific a treatment as possible for as short a time as possible (in accordance with the advice on the packet - never stop treatment early just because your fish are looking better).
Other Supplies
Since it can be just as important to quickly track the cause of a disease outbreak in your aquarium, you should always keep a basic aquarium test kit in your medicine cabinet. This way you can find out about any problems with water quality as swiftly as possible. If you store dried bogwood and limestone or crushed coral, you can start making adjustments to pH promptly (though be careful not to stress fish further by adjusting pH too rapidly).
Finally, whatever medicines you keep, remember to check best before dates regularly and replace them if they run out of life. This means that sometimes you will end up buying things only to store them for a while and then throw them away, but having those medicines immediately to hand when your fish need them definitely makes this worthwhile. After all, most aquarium medicines aren't that expensive, and your fishes' lives are priceless.
You might also like...
Hi there , can tcp treat white spots and the tank itself. ....??? Thanku
Ana
- 24-Dec-17 @ 12:42 AM
@Jonni - If non of your other fishes sare affected, I would transfer your sick fish temporarily to a smaller bowl and observe for the next day or so. This is to stop a spread of disease to your other fish. If its swimming pattern does not normalise, then you may need to seek specialised help.
Aid
- 14-Sep-15 @ 12:35 PM
My neon tetra has gone black on his back and swimming like he is drunk all my other ones are fine neon tetra send all the water levels are all perfect anyone got any ideas what's going on
Jonni
- 13-Sep-15 @ 1:47 PM
Thanks for the tips I have had fish for more than 15 year and all I have ever used is t c p in my tank and it works on many things.
alan
- 17-Aug-11 @ 9:57 PM