LED Lighting for the Aquarium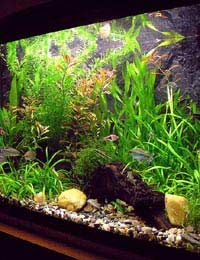 Offering greater flexibility, easier to maintain, and needing less power, LED (light emitting diode) lighting is increasingly popular across a range of technological applications. Now it is also available for the aquarium. Could it work for you? This will depend on your individual priorities, but you'll be pleased to know that many early problems with LED lighting have now been fixed, making it an increasingly good choice for everyone.
Variable Lighting
One of the big advantages of LED lighting is variability - not just choice of what to buy, but the ability to alter the output of your purchase at different times. Unlike conventional metal halide or fluorescent aquarium lighting, LED lights don't have one single bulb but instead use an array of tiny bulbs emitting different wavelengths of light. These can be turned on or off individually to suit your needs, either manually or using a timer.
This variability means that you can use the same lighting system to provide a full sunlight-type effect during the day and a gentle moonlight effect at night, giving your fish a more naturalistic environment and encouraging night-time activity. You can also mimic the effects of things like clouds passing overhead, making their environment more interesting. Some LED systems come with settings that will help you recreate the rosy glow of sunrise and sunset.
Variable lighting like this can be particularly useful when it comes to breeding, acting as an encouragement to fish who naturally spawn only at particular times of day or in special weather conditions.
Plant and Coral Growth
When LED lighting for the aquarium first emerged it was considered inferior to metal halide lighting because it didn't emit as strong a light, nor cover the full colour spectrum needed by many hard corals. Now, however, things are different. This is thanks to two innovations: blue LEDs (broadening the available spectrum) and high power LED systems.
Blue light can still be important in an ordinary planted aquarium, where hard corals are absent, because it facilitates the growth of healthy forms of algae. This means that it's usually worth the extra investment to buy a more recent LED lighting system if you want your aquarium ecosystem to flourish, though older ones are still adequate for basic plant lighting.
If you have fish who prefer low light levels but you want to give an extra boost to your plants or corals, you can now purchase submersible LED spotlights that let you direct extra light exactly where you want it. Just avoid using them with octopuses, crabs, or other aquarium creatures with a reputation for trying to take things apart. They're perfectly safe with most fish.
Heat and Power
Another big advantage of LED lighting systems is their low heat output. Most have internal cooling systems using fans which prevent them from heating the surface of the water. This means that you don't have to worry about the temperature in your tank gradually climbing during the period when your daylight lighting is switched on, nor about the tank overheating in summer. It also makes for a ore pleasant environment for surface-swimming fish.
Part of the reason why LED lighting systems emit less heat is that they use less power in the first place. This is where the big savings come in. In its first few years of life an LED system can cost as little as half as much to run as a traditional system. It is also, of course, better for the environment.
Cost, Lifespan and Maintenance
The downside to installing an LED system is the cost, which many aquarists will find prohibitive. A full system for a medium sized tank can cost over a thousand pounds. The good news is that prices are falling rapidly as increased interest means manufacturers can save money through mass production.
If this level of investment sounds too much, consider what you get for it. Unlike conventional systems, where bulbs usually need to be replaced every two years or so, LED lighting systems have an average seven to ten year lifespan, even if you use them twenty four hours a day. Some will last even longer. They're easy to look after and you won't need to keep getting them serviced; just wipe away corrosive salt every now and again.
Even if you don't want to invest in LED lighting just now, it's well worth keeping an eye on. The technology is getting better and better, and it looks likely to grow still more popular in the future.
You might also like...