Aquarium Wave Makers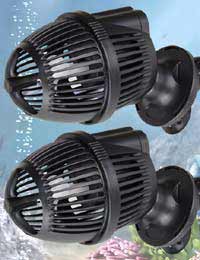 As a rule, the healthiest marine aquariums are those which most successfully mimic conditions in the wild. However, there's one big factor which is present in the wild and tends to be absent in aquariums, and that's waves. Adding a wave maker to your aquarium set-up can give the whole ecosystem a boost. But how do they work, and what sort should you choose?
Benefits of Wave Makers
In an age when there's much talk of obesity epidemics, it's not just humans who have to watch their waistlines. Excess body fat is actually a leading cause of chronic ill health in aquarium fish. With food easy to come by and no predators to worry about, most fish simply don't get the exercise they need. By adding strong currents to the water, a wave maker can help to tone their muscles and keep them in good condition.
Currents caused by wave makers also help to stir up debris in the tank, making sure it doesn't accumulate in places where it can rot. They carry nutrient particles around that tank, making it easier for corals and anemones to feed. Scientists believe that being moved around by currents also directly stimulates healthy coral growth.
Besides these practical considerations, wave makers make your aquarium look more dynamic and interesting. They increase activity in general and make it more fun to watch.
Types of Wave Maker
Most wave makers are built according to the same basic principles, but they vary considerably in price and it's important to choose the right one for your aquarium. The first thing to think about is size. The cheapest models have only one setting, which may create currents that are too strong or too slight for your set-up. Ask your local aquarium supply shop for advice or invest in an adjustable model, which will also give you the option of transferring it to another tank in the future.
Some wave makers consist of control units to which you can attach multiple power heads, enabling you to set up currents that collide partway across your tank. These create downward eddies which are often popular with bottom-dwelling fish, functioning as a sort of elevator to help them when they want to rise up in the water. Small fish can sometimes find these problematic but will usually learn to avoid them.
Imitating Natural Waves
It's one thing to produce a simple current that runs through your aquarium, causing the surface to ripple, but, of course, natural waves don't travel in just one direction - they alternate according to the tides. Some types of aquarium wave maker can simulate this, and they even come with timers so you can create tides that change at particular times of day as they do in the sea.
Alternating wave patterns are well worth the extra investment. Not only do they provide a more stimulating environment for your fish and coral, they ensure that debris doesn't all get pushed in one direction, so they help contribute to a healthier aquarium. They can help to trigger proper feeding behaviour in new reef fish who are finding it difficult to fit into your aquarium - simply try adding food around the same time that the waves change.
As a rule, fish are always happier in an environment that undergoes a predictable daily cycle of changes. Alternating waves, along with a regular feeding and light cycle, can help to reduce stress and contribute to your fishes' health and well being.
You might also like...