Temperatures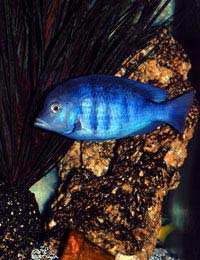 Keeping your fish at the right temperature is a vital part of maintaining a healthy aquarium. Although you may often see them labelled simply as 'tropical' and 'cold water' different fish species have subtly different temperature preferences which need to be acknowledged if you want them to thrive.
First and foremost, it's important that you are able to monitor the temperature of your tank effectively. Fortunately there are now lots of different aquarium thermometers available for this purpose. These are better than general thermometers as they're designed to focus on the precise range within which your aquarium water should be, giving you a more precise reading. Some designs can be stuck to the side of the tank so that they're easy to check at any time. Get into the habit of checking yours regularly.
Factors Affecting Temperature
Several different factors can affect temperature. The most obvious of these are the weather and the heating and/or air conditioning systems in your home. When the ambient temperature changes, so will the water temperature, even if it does so slowly. Another thing to consider is sunlight. Many aquarists position their tanks in direct sunlight without thinking about how this can heat up the water, rather like a greenhouse. The effect can be drastic, very quick, and very stressful for fish.
One factor which many aquarists overlook is the heat produced by aquarium equipment. This doesn't just mean heating units. Lights can obviously produce a lot of heat, as can some pump and filtration systems. Remember to take this into account when adjusting the temperature of your tank.
Remember that smaller aquariums are more vulnerable to sudden temperature changes. For this reason, you should be especially vigilant about monitoring your isolation tank and any special spawning or breeding tanks which you may have. Also consider the position of your tanks - ideally, there should be room for air to circulate around them, helping to maintain a stable temperature. A tank which is pressed right up against the wall is more vulnerable to overheating.
Temperature and Water Quality
As well as affecting your fish directly, the temperature of your aquarium can have a significant effect on water quality. Most organisms reproduce more efficiently at higher temperatures, and this includes the ones which break down waste products in the aquarium - for good and bad - as well as algae. Warmer water thus means an increase in the organic material in your tank. If you decide to increase the water temperature, make sure that your filtration systems and cleaning regime are ready to cope with this.
Colder water contains more freely available oxygen than warmer water and, as such, will generally support more fish. It also provides a less friendly environment for disease organisms. If your fish are hardy enough to cope with it, temporarily lowering the temperature of your aquarium by two to three degrees can be an effective way to slow the progress of disease outbreaks. However, any changes to temperature should always be made slowly, so as not to shock your fish.
Temperature and Fish
Temperature preference is one of the most important factors in determining which species of fish you can stock together. Other tank inhabitants like corals and anemones also have ideal temperature ranges and may struggle to survive if kept outside them. Always keep this in mind when you purchase new fish, and do your research to make sure you know just how sensitive to temperature changes the different organisms in your tank are.
Aside from temperature itself, temperature change can be highly stressful for fish. This is why, when introducing new fish, you should do what you can to equalise the temperature between the water they arrive in and the water they're to enter before you release them. This is also important when moving fish between your main tank and any subsidiary tanks.
In most circumstances, accurate temperature control is easy to maintain. The most important factors are patience and a willingness to pay attention. Getting it right will make a massive difference to the health and longevity of your aquarium.
You might also like...